Thursday, April 27, 2006 4/27/2006 11:00:00 AM
Today's Highlighted Videos
This Joe refuses to be average... what about you?
5 min 6 sec
These two room mates decided to start filming their wacky debates and turn them into a weekly show on Google Video. You can do it too! All you need is a video camera and a sense of humor. Awaken your inner filmmaker.

Videos from Today's Top 100

#3
Paul Bettany is Silas in Ron Howard's highly anticipated "The Da Vinci Code". Play the Da Vinci Code Quest on Google.com!
40 sec



#29
If you ever wondered what a live action Super Mario Brothers game would look like...
4 min 58 sec
#100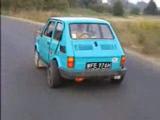 Please don't try this at home...
4 min 1 sec