Wednesday, April 12, 2006 4/12/2006 05:00:00 PM
To help improve your ninja skills...
Click here to watch Sister Street Fighter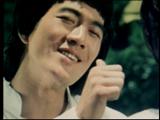 This video from TVNET.net tells the story of martial arts phenomenon Bruce Lee. Starting with his training as a youth to his rise to international stardom, this video will give you a glimpse into the life of a master.
1 hr 30 min 24 sec
Click here to watch "The Man The Myth"