Monday, March 20, 2006 3/20/2006 12:00:00 PM
Striving to make your Monday more entertaining with what's new on Google Video: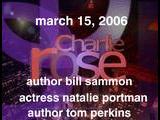 Actress Natalie Portman promotes her new film "V For Vendetta" by the Wachowski Brothers (creators of "The Matrix") in this episode of
Charlie Rose
. Also interviewed include authors Bill Sammon and Tom Perkins.
56 min 40 sec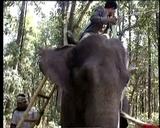 Go on an amazing
elephant safari
in Kanha National Park without leaving your seat with this new video from Wilderness Films India.
2 min 32 sec
This independent horror film "
Ice from the Sun
" will send a chill down your spine. Awaken your senses and your Monday with this stylish video from Image Entertainment.
1 hr 56 min 34 sec