Monday, May 22, 2006 5/22/2006 10:52:00 AM
Ronaldinho creates, Eto'o scores, Puyol defends, Iniesta constructs, Deco destroys. These are the key elements of Barcelona's champion team. In Paris, they played an impeccable game of football to win their second Champions League title against a worthy opponent, Arsenal, and their goal scoring maestro, Thierry Henry. Barca had to get through 13 games before being able to lift the cup, showing why they were destined to win this year.
Google Video and FC Barcelona invite you to celebrate their explosive Champions League victory with this
incredible footage
featuring pre-match coverage, match highlights, and post-match celebration.
"The club is happy to share it's second Champions League title with its fans across the world through Google Video", said Omar Berrada of Barcelona FC.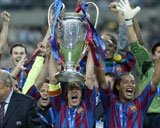 Click here to watch FC BARCELONA - CAMPEONES DE EUROPA CHAMPIONS LEAGUE
FC BARCELONA - CAMPEONES DE EUROPA CHAMPIONS LEAGUE
Barça TV
18 min 11 sec - May 19, 2006
www.fcbarcelona.com
High Quality Download - $2.99; High Quality Day-Pass - $.99
Want to share your videos? Click
here
to upload now - it's easy!