Thursday, April 20, 2006 4/20/2006 04:45:00 PM
Starting your weekend early with a recipe for a flaming Russian Roulette and a musical with some amusing critters...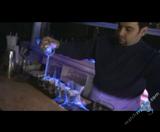 For people who like to play with matches... master this drink and you'll be a hit at your next party.
1 min 43 sec

They sing! They dance! They get eaten... such is the circle of life.
2 min 41 sec