Monday, November 14, 2005 11/14/2005 12:18:00 PM
This post kicks off a week of food fun, tasty bits and inspiring cooking. Bon appetit!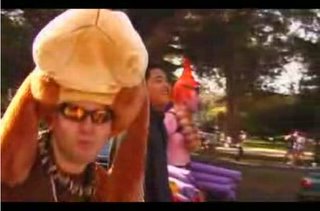 The Hippy Gourmet TV Show: Episode 61
Firing up the backyard BBQ to do wok-style Fried Rice and wok-style Organic Stir Fried Veggies, provides for an extremely colorful array of sizzling entertainment for all the senses! To top it off, we visit with the annual Bay to Breakers race that highlights over 300,000 of some of the craziest, wackiest people you'll ever see, running in costumes and in themed groups from the San Francisco Bay to the Pacific ocean. The Hippy Gourmet gets fired up to show how it's done!
(
description provided by content owner
)
Produced by The Hippy Gourmet and ICFX-TV
19 min 41 sec