Monday, October 31, 2005 10/31/2005 06:00:00 AM
Google Video is growing so fast that we think a blog is the best way to showcase some of the great videos that catch our attention. Each week we'll highlight a handful of videos that share a common theme. (Of course, we add videos daily to the [site]-- so check the blog often to see the latest masterpieces.) To open the series, we've picked documentaries - work mirroring the real world. And what about you - have videos you'd like to share? Consider
uploading to Google Video
. Warhol said everyone is due at least 15 minutes of fame - might as well get ready for yours. And calling all sports fans: the video theme next week is the pursuit of play in many forms. Tune in now, then, and often.
Posted by Eva Ho, Product Marketing Manager
_____________________________________________
"Sustainable" takes on new meaning with the Dyana cars.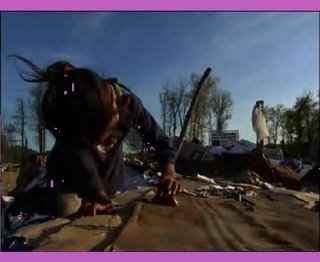 Pretty Dyana - A Gypsy Recycling Saga

An intimate look at Gypsy refugees in Belgrade suburb who make a living by transfoming Citroen's classic 2cv and Dyana cars into Mad Max-like recycling vehicles, with which they ollect cardoard, bottles and scrap metal. These modern horses are much more efficient than the cart-pushing competition, but more important - they also mean freedom, hope and style for their crafty owners. Even the car batteries are used as power generators in order to get some light, watch tv and recharge mobiles! Almost an alchemist's dream come true! But the police doesn't allways find these strange vehicles funny...
(Description provided by content owner)
Produced by Dribbling Pictures 45 min